Contact Profile: Wrong Number
February 2, 2023
When working in the Contact Profile, and it is discovered that the phone number is wrong, there is a one-click button to handle this.
When the Wrong Number button is click the system will:
– replace the current phone number with 555-555-5555 and
– generate a History Note with the original number and the replaced number
– turn off OK to SMS ?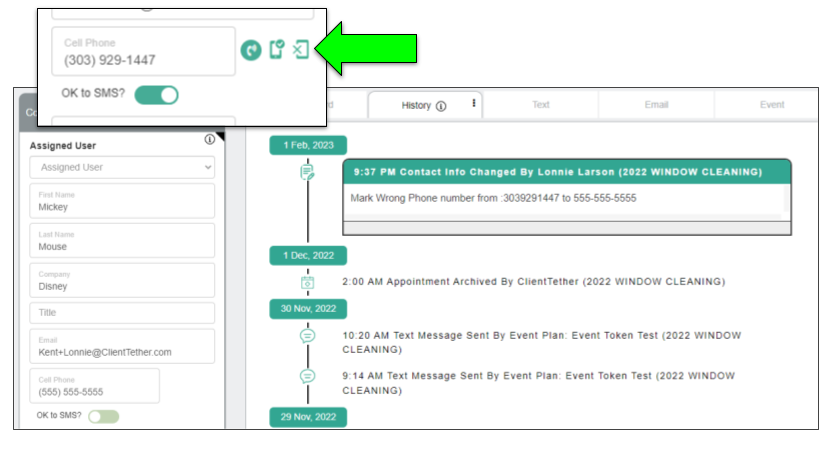 Phone Number Lookup: Verification of Text-Enabled VS Landline
October 20, 2022
The system now has the ability to confirm if a number entered in the 'Cell Phone' field of a Contact Profile is text-enabled versus identified as a land-line or not text enabled.
This verification process is performed in the following instances: when a new Contact is added, when the number in the Cell Phone field is edited, and/or when the mobile phone icon to the right of the Cell Phone number is clicked. If the number is verified to be text-enabled, the 'Ok to SMS?' toggle will be set to active (on) and the corresponding Text tab will be available for use. If the number is determined to not be text-enabled/a landline number, the toggle will be set to in-active (off), the Text tab will not be accessible, and a statement in red will appear next to the toggle stating "Landline number, SMS not allowed."
Archived History Notes
October 20, 2022
The History tab in a Contact Profile displays a limited number of time-stamped activity notes for the Contact. Now available is an Archived list view of ALL history beyond the 100 record limit shown in the History tab. To access History beyond those 100 records, click the "View More History" link at the bottom right of the screen to launch an additional browser tab which will show a full list of all activity for that Contact collected within the CRM.
Contact Links within Contact Profile
October 13, 2022
There are now two options for collecting and sharing information about Contacts from the CRM:
Clicking the option at the top left (Contact Info) will copy a URL link back to this specific Contact profile that you can share with others. To access the the information about this Contact, the recipient of this information must have valid login credentials for the CRM. This URL is also available as a token.
Clicking the option at the right (#……) copies the Contact ID. This information is also available as a token.