Pipeline
February 10, 2020
Last Update: Nov 16, 2022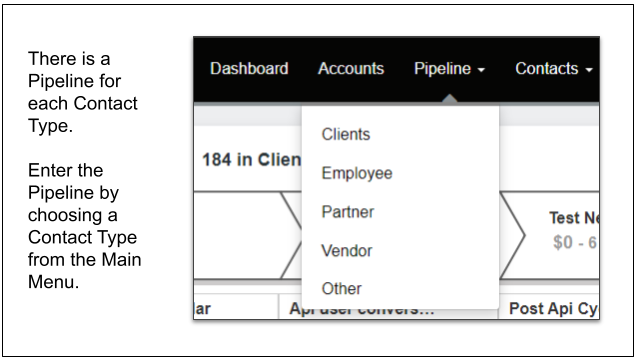 Pipeline is a visual representation of your customized Sales Cycles.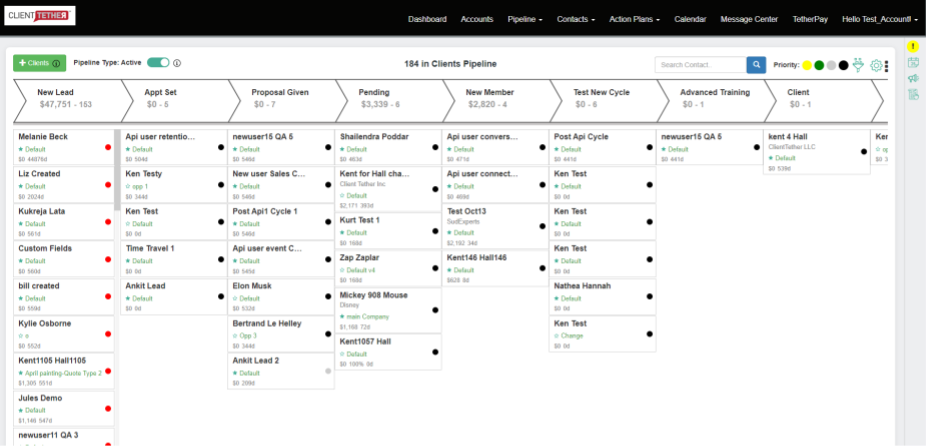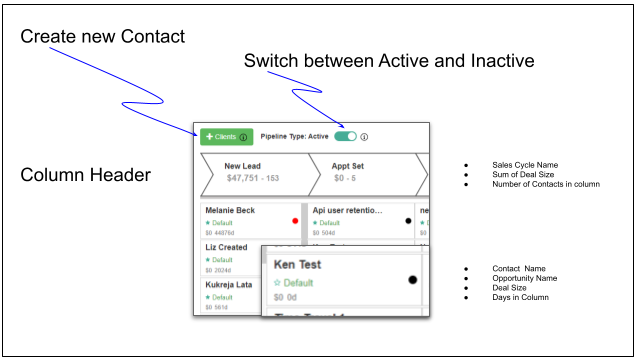 The pipeline feature in ClientTether gives you clear visibility into your sales flow and allows you to see a detailed breakdown of the following:
How many contacts you have in each part of your sales cycle
The deal value of each contact
The overall sales potential rolled up in each part of your sales cycles

Prospects in your pipeline with no pending actions, with overdue actions, and with actions due today

Length of time each prospect has been in a sales cycle
Likelihood for each deal to close
Estimated close dates for each opportunity
---
How to Read the Pipeline
Overview
The ClientTether's Pipeline is a powerful tool for you to be able to optimize your sales effectiveness. To get the most out of it, it's important to understand how to read it. Below we breakdown what each part of the pipeline provides.
Sort Features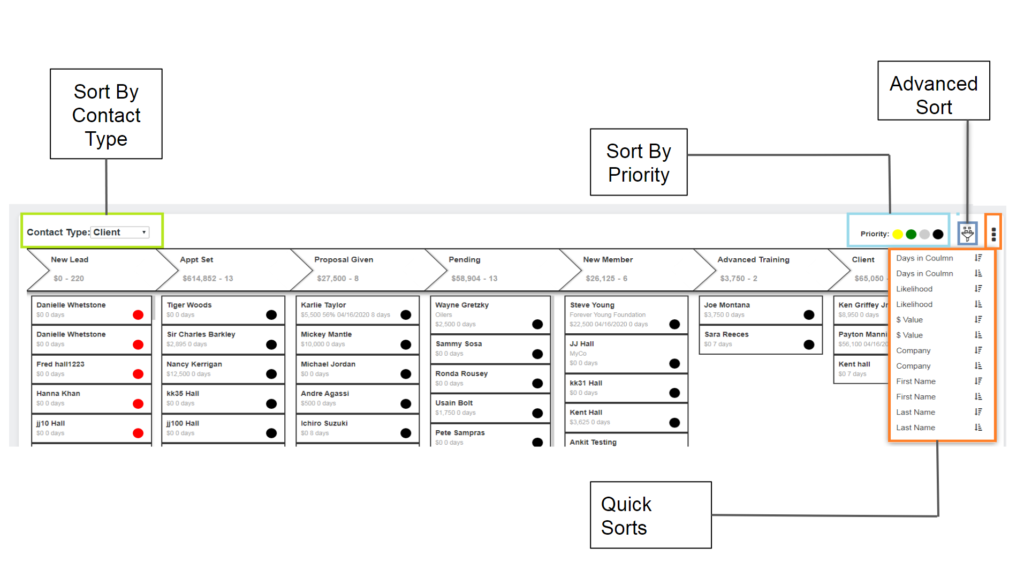 At the top of the pipeline we have all of the sort features needed. For more information on how to sort the pipeline click here.
Columns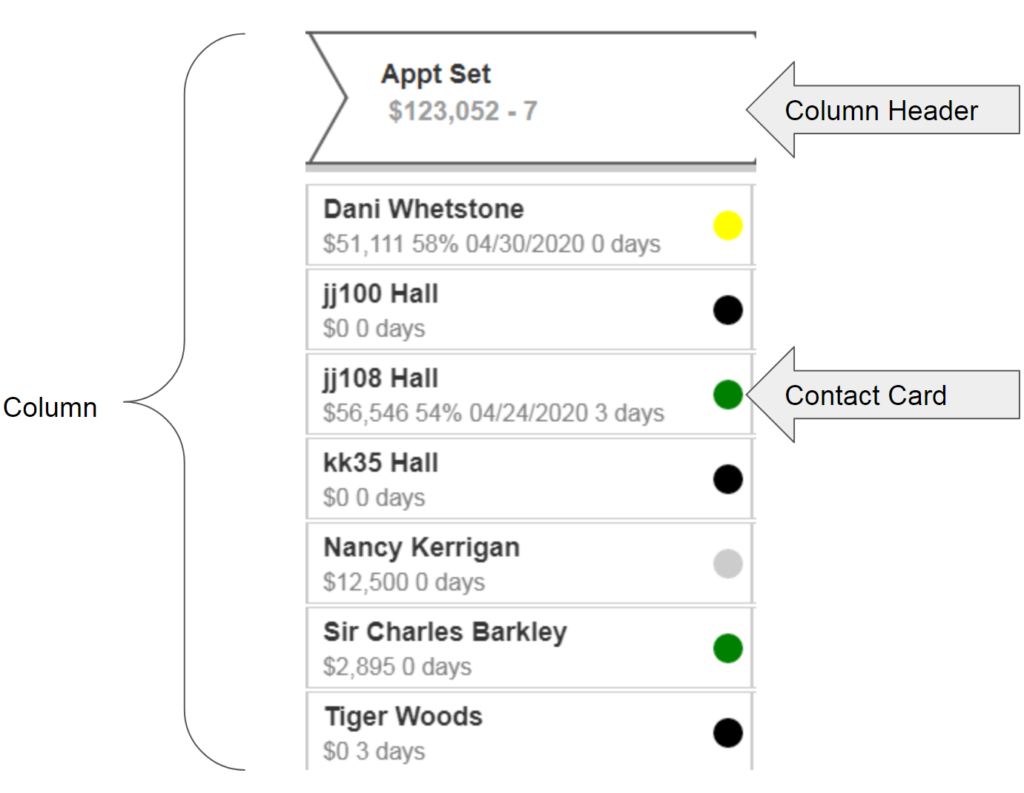 Each column has two main parts:
Column Headers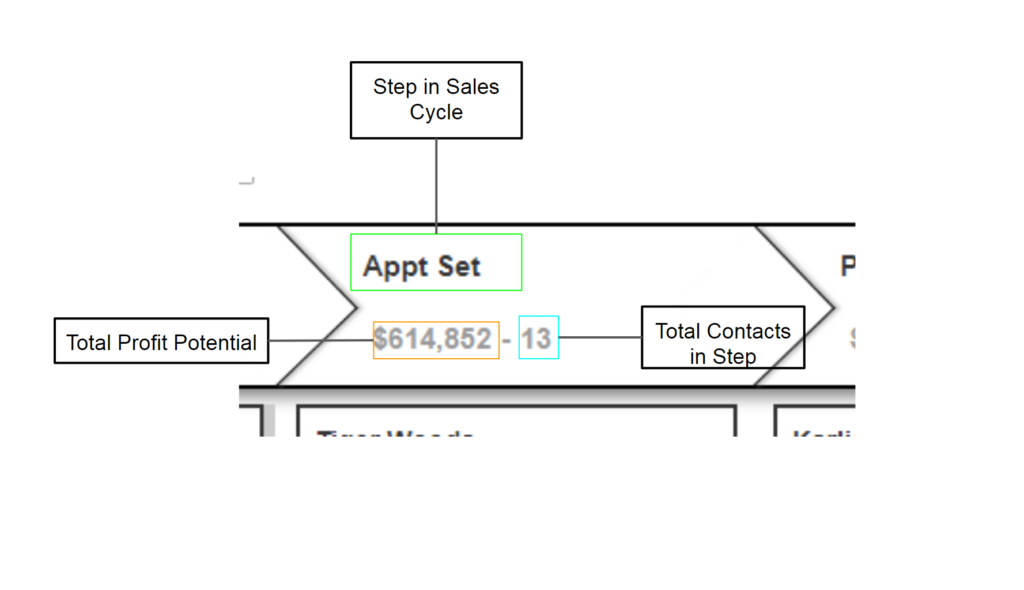 The Column Header is made of three pieces of information.
The title lets you know what step, in your sales cycle, the contacts are in.
The Total Sales Potential is the sum total of all deal values in that column.
The total number of contacts in that particular step
Contact Cards
Contact Cards are available for each opportunity in your Pipeline. Keep in mind that a contact can have more than one opportunity, so I contact card will display for each opportunity for that contact that is in an active sales cycle. The Contact Card can contain 7 pieces of vital information
The contact's name
Opportunity Name
Deal size
Likelihood of the deal going through
Close Date
Days in Column
Priority

for New Lead
for Missed Action
for Today's Action
for Has Pending Action(s)
for No Pending Actions
---
Overview
As you are using the pipeline feature there will be times you would like to make changes to a contacts details. Those can easily be done in the pipeline.
Topics
Making Changes with Drag and Drop
This change will effectively change what step in a sales cycle a contact is in.
Identify the contact that you would like to move into a different column
Drag and Drop the contact onto the column header of the sales cycle you want it to be in
Making Changes via Contact Card
The contact card allows you to change the following:
Action Plan
Deal Size
Quoted
Closed
Likelihood
Close Date
Changes are made by:
Clicking on the colored dot to the right of a contact's name (this opens the contact card
Select the field you wish to edit
Change the value
Making Changes to Contact Profile
You can open the full contact profile in the pipeline by clicking on the contact's name. This will open the full contact profile.
---
How To Search The Pipeline
Overview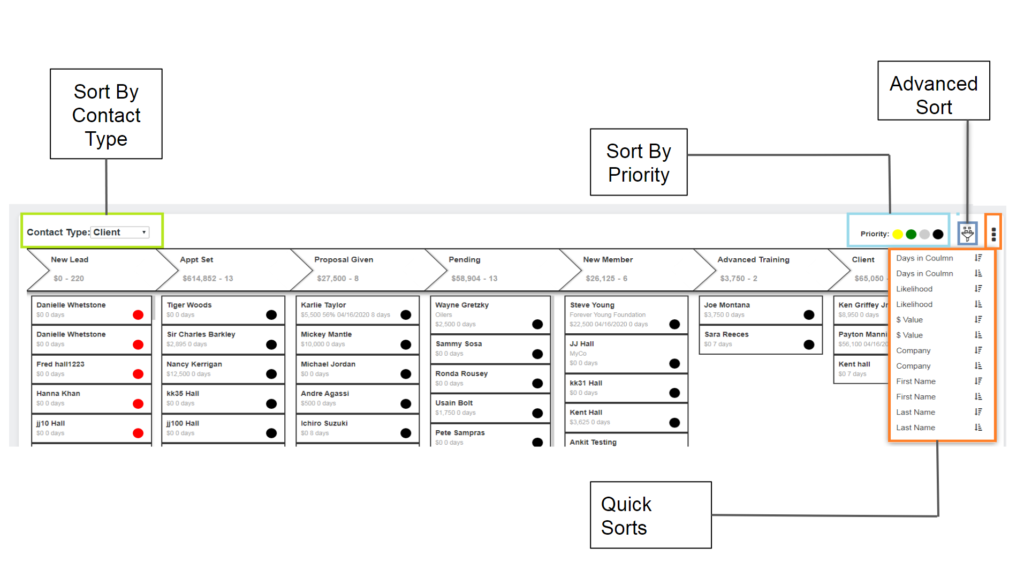 To make the pipeline dynamic and easy to use to take action, we've added several resources to help you sort it. Here is a list of the tools you have available to sort the pipeline:
Contact Type
To sort by contact type:
Find the at the top left part of the screen
Select the down area for the drop down menu
Select the contact type
Priority (Communication Priority)
When you sort by communication priority it puts the selected priority at the top of each column. To do this:
Locate on the right half of the top of the screen
Click on the color indicating the priority you wish to sort by
For a key of what the different priority colors mean click here
Advanced Filter
Advanced sort allows you to sort by:
Action Plan
State
Lead Source
User Assigned
Tags
To use the advanced sort:
Click on on the top right part of the screen
Select which item you would like to sort by
Quick Sort
Quick Sort allows you to sort by
Days in Column
Close On (Close Date)
Likelihood
$ Value (Deal Size)
Company
First Name
Last Name
To use the quick sort
Click on the on the far right of the top of the screen
Select the category you would like to sort by

There are two options to sort by

Which indicates sorting small to great
Which indicates sorting great to small