History Notes
April 15, 2020
Overview
History Notes provide you an easily accessible and visible record of all interactions and important information for a contact. All phone calls, text messages, emails (inbound email logging coming Q2 2020), and notes regarding a client are stored in the history tab in a contact profile.
We hope you don't mind that we automate logging all of your activity (Calls, texts, emails sent from the system) for you, so your team doesn't need to spend time logging calls.
We will cover the following topics
Video Tour of History Notes
How to Access History Notes
History notes can be accessed by opening the contact profile and clicking on the history tab.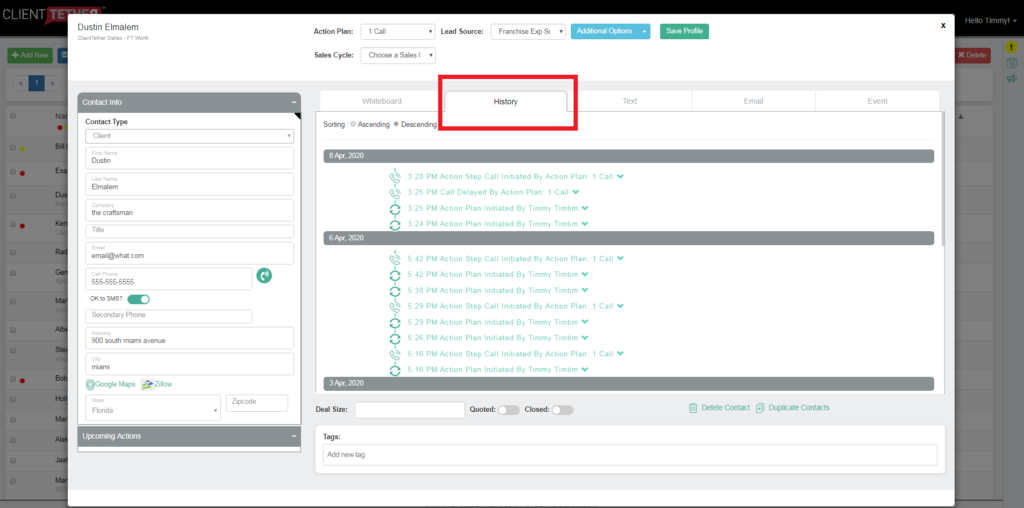 What is stored in History Notes
Phone calls – This includes a note of when the call took place, how it was placed, who placed it, and an audio recording of the call
SMS Messages (Text Messages) – This includes a note of when the message was sent, how it was sent, who sent it, and a copy of the text message.
Emails Sent To Your Contacts- This includes how many times emails have been opened by the contact, when the message was sent, who sent it, who the message was CCed and BCCed to, and the actual message.
Emails Received From Your Contacts – When it was received, who it was sent to, and the actual message (Coming Q2 2020).
Appointments- Provides who scheduled the appointment, When the appointment took place and any notes about the appointment.
Changes to SMS Permission, Action Plan, Lead Source, and Sales Cycle.
Notifications about contacts Unsubscribing to Emails
Notes- Anything you have added through the note section in the whiteboard
How to Add to History Notes
Any action, email, sms, appointments, etc, will automatically populate in the history field. To add a note just go to the whiteboard tab and select add note. Type in you note, Save it, and it will be added to your History Notes.