Contact Profile
November 16, 2020
Overview
The Contact profile is a consolidated, simple location to engage with and capture all client contact information.
This area provides access to contact details including the whiteboard, history, notes, calls, texts, emails, actions, events, opportunities, sales progression, etc., in one place.
Topics
Attachments
Whiteboard Tab
Accessibility
The Contact Profile can be accessed within ClientTether from the
Account Page
Calendar
Contact list
Dashboard
Pipeline
Notifications
Contact Profile Header
The Header in the Contact profile provides a lot of information in a compact space. We are going to break down the two sections of the header to help you grasp everything you can glean from this area.
General Information
From the Header in the contact profile you can get the following information:
Clients Name
Account Name
Assigned User
Action Plan
Sales Cycle
Lead source
Proposals
Also soon the
Deal Size
Quoted
Closed
Likelihood
Close date
will be moved up to header.
After making any changes to the Header you must click

Opportunities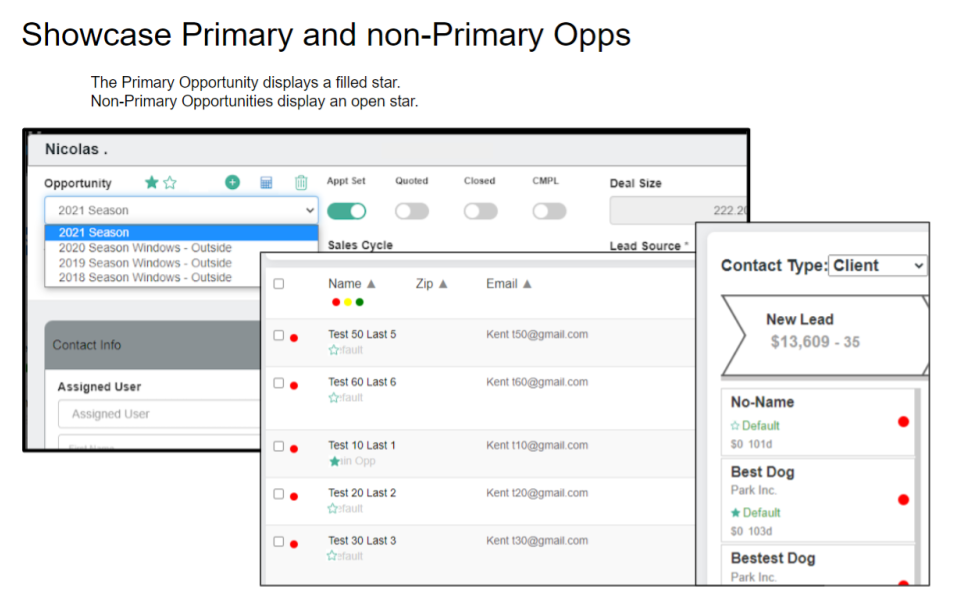 Contact Info
The Contact Info section, on the right hand side of the Contact Profile, holds all of the details about the contact.
The list of the details regarding Contact Info is broken up into two sections:
Additional details on features of the Contact Profile:
allows you to duplicate a Contact

This will not duplicate the history notes

allows you to delete a Contact

Goes to Archive, unless you are in Archive then it permanently deletes eh contact

allows you to collapse the Contact Info field.

If the Contact Info field is collapsed it will be replaced with which if you click will re-expand the menu.

directly under will show you the expanded Contact Info options
In the Expanded info options you can click to add a custom field.

Add your label
Add the value
Click
Please note: This new Custom Field now also populates in your Custom Fields list in Settings at the Custom Fields tab. From that tab in Settings you can elect to add this new Custom Field to all Contacts within your account by clicking the far right icon.

Allows you to designate if you have been given express permission to communicate with this Contact via text (SMS).

If you have permission to text (SMS) this Contact, set the toggle on (green) to allow texting (SMS).
If you have not received permission to text (SMS) this Contact, set the toggle off (grey) to disable the text (SMS) feature within this Contact Profile.

allows you to place a manual call directly to the Contact.
will pull up directions to the Contact's address via Google Maps.
will provide address related information for this Contact via Zillow.
To save any updates to the information for this Contact, please click

List of information in non-expanded Contact Info
Contact Type
First Name
Last Name
Company
Title
Email
Cell Phone (Primary Phone Number)
OK to SMS
Secondary Phone
Address
City
State
Zipcode
List of information in expanded Contact Info
Net Worth
Home Owner Status
House Hold Income
Length of Residence
Marital Status
Market Value
Occupation
Social
Age
Education
Gender
Presence of Children
Presence of Pets
Facebook Link
Linkedin Link
Twitter Link
Anniversary(1)
Anniversary(2)
Contacts Date Next
Contacts Date Last
Custom Fields
Upcoming Actions
Upcoming Actions lists all scheduled actions for a client. This includes Action Plan Steps, scheduled text and/or emails, appointments, contact reminders, etc.
Text Tab
This Tab allows you to see all of the text messages you have sent to the client and the messages you have received from the client.
You can also write and send text messages directly to the client in this tab. This tab updates automatically, so you can have live, 2-way text discussions with your clients.
For more information on that process please visit our SMS-Texting Page.
Email Tab
The email tab is available for you to send manual emails directly to your clients.
For more information this feature please visit our Email Page.
Tags
Tags allows you to help group certain clients that share important attributes together.
The Tags text field allows you to enter tags for the client. You can enter new tags or existing tags.
For a full list of your accounts tags please visit the Tag tab in Settings.