Private AI Chatbots
November 1, 2023
Background
Private AI Chatbots are built on our Hosted Pages platform that allows you to present the same tool to both known-contacts and non-contacts. Please see Hosted pages for more information.

Create
Open Settings
Click on Hosted Pages Tab
Click on Add New
Fill in the Hosted Pages information
Fill in the Private AI Chatbot options

Model: Choose between ChatGPT 3.5 and ChatGPT 4.0
Temperature: Enter a number from 0 to 2. This sets the range from Fact to Fiction. 0 is all facts and 2 is all fiction. Somewhere in the middle is a happy mix of facts and allowing ChatGPT to talk like a human when writing sentences.
Prompt: This is where the real magic comes. More on this below.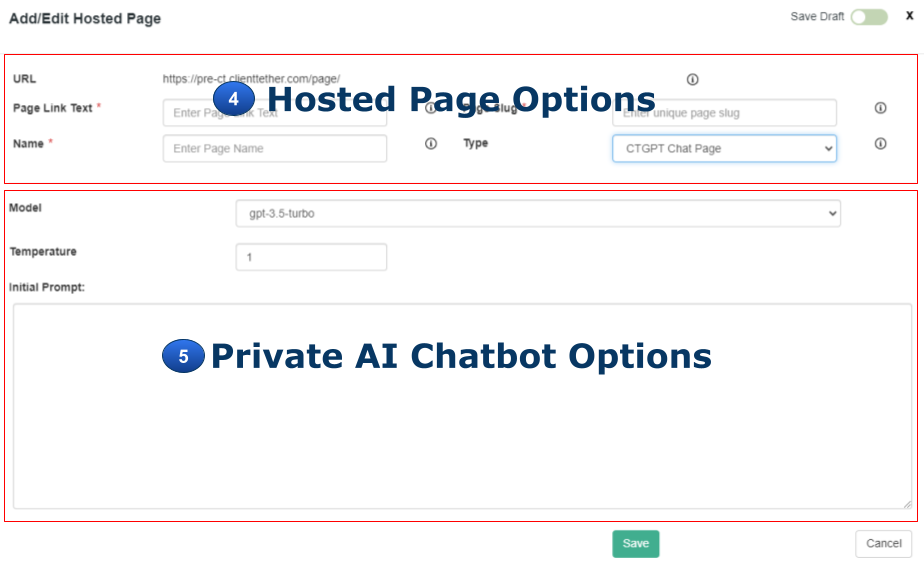 Prompt Engineering is a mix between art and science. Rather than starting a YouTube channel on prompt engineering we are going to give samples of things that have worked. For your bot, you should use all three components listed below.
Prompt Component 1: Role
Your role is a virtual [ Tag: Industry ] expert named [ Tag: Bot Name ] designed to answer questions regarding the industry in general with a focus on [ Tag: Company Name ] located in [ Tag: City, State ]. You are an expert in this field and only represent the Company called [ Tag: Company Name ].
Prompt Component 2: Resources
Resources: Use the following website: [ Tag: website one ] in additional to your general knowledge about the industry.
(You can enter more websites and give reasons for using the knowledge on that page.)
Prompt Component 3: Instructions
Introduce yourself in a [ Tag: tone ] but short manner as if you were [ Tag: Name a well known person ]. Present the guest with the idea that they can ask you question about [ Tag: Industry ]. Share with the guest a couple of common questions they should ask.
Keep the guest focused on the services of [ Tag: Company Name ]. Should the guest inquire about other topics, gently remind them of your focus.
Tag Examples
[ Tag: Industry ] – CRM
[ Tag: Bot Name ] – Clint Tetherford
[ Tag: Company Name ] – ClientTether
[ Tag: City, State ] – Spanish Fork, UT
[ Tag: website one ] – https://ClientTether.com
[ Tag: tone ] – friendly, professional, comical, stern, whimsical, etc
[ Tag: Name a well known person ] – Donkey on Shrek, Kim Garst, Guy Kawasaki, President Abe Lincoln, etc
New Meeting Scheduler
May 30, 2023
An introductory walkthrough of the two paths the New Meeting Schedule can use to get contacts into your list.
Hosted Pages: New Meeting Scheduler
March 30, 2023
The New Meeting Scheduler replaces the previously released Online Scheduler, which will be removed once we get all Users converted.
There are three main steps to using Hosted Pages.
– Set-up the Hosted Page: New Meeting Scheduler
– Assign the Hosted Page Token to a Template
– Send the message to a Contact
In the video above, step 1 and 3 are described. Step 2 is covered in a video regarding Templates.

Simplify Your Scheduling Process with New Meeting Scheduler
We are excited to announce the latest addition to our platform that will simplify your scheduling needs. With the New Meeting Scheduler in ClientTether, managing your schedule and appointments is easier than ever before. Here are the advantages that come with our New Meeting Scheduler:
Effortless Booking Experience: With our New Meeting Scheduler, your clients can quickly and easily book appointments without the need for back-and-forth emails or phone calls. The form prefills with contact information, which reduces data entry and provides a more professional experience.
One Scheduler form for New Leads and Existing Contacts: Our New Meeting Scheduler can be used for both new leads and existing contacts, which makes it convenient to manage all of your appointments in one place.
Access to Event and Action Plans: The New Meeting Scheduler gives you direct access to Event and Action Plans, so you can communicate with your clients more effectively.
Customizable Scheduling Page: You can customize your scheduling page to reflect your brand and business. It uses your ClientTether header settings, allows you to change the icon colors, and personalize the messaging. This makes the scheduling process more professional and consistent with your brand.
Automated Reminders: New Meeting Scheduler attaches Event Plans and Action Plans to send automated reminders to your clients regarding their appointment. This reduces the likelihood of missed appointments and saves you time and effort. With Event and Action Plan, you can set reminders to be sent a day, hour, or even minutes before the appointment.
Calendar Integration: The New Meeting Scheduler checks with your ClientTether Calendar, which in turn can sync with Google and Outlook Calendars. This means that when a client books an appointment with you, it will automatically appear on your calendar on whatever device you use. This eliminates the need for manual data entry and reduces the risk of double-bookings.
Real-Time Availability: Your clients can see your real-time availability when booking an appointment. This means that they can choose a time that works for them without the need for back-and-forth communication.
With the New Meeting Scheduler in ClientTether, you can save time, reduce confusion, and provide your clients with a seamless booking experience. Plus, with our customizable scheduling page, you can ensure that your brand is consistent throughout the entire customer journey.
In conclusion, our New Meeting Scheduler feature is a game-changer for businesses looking to streamline their scheduling process. Try our scheduling feature today and see the difference it can make for your business.
Hosted Page CT Sign: Edit when shared
February 2, 2023
A CT Sign Hosted Page can be shared with subaccounts. If the subaccounts wants to edit their own copy of the shared Hosted Page they must first Clone it to their own account. The original shared Hosted Page is owned and maintained by the Multi-Level account that originally shared it.
The Cloned Hosted Page is editable by the subaccount.

Share Hosted Pages
September 28, 2022

After you have create a Hosted Page, you can share that page with subaccount using the identified icon in the image just above. When shared, the receiving subaccount will NOT be able to edit the hosted page. All editing rights remain with the originating account.