Message Center
October 13, 2022

A unified Message Center concept has be added to the Add-On options, meaning that this feature must be turned on before it will be visible in the system. Once turned on, the "Message Center" option will show in the main menu.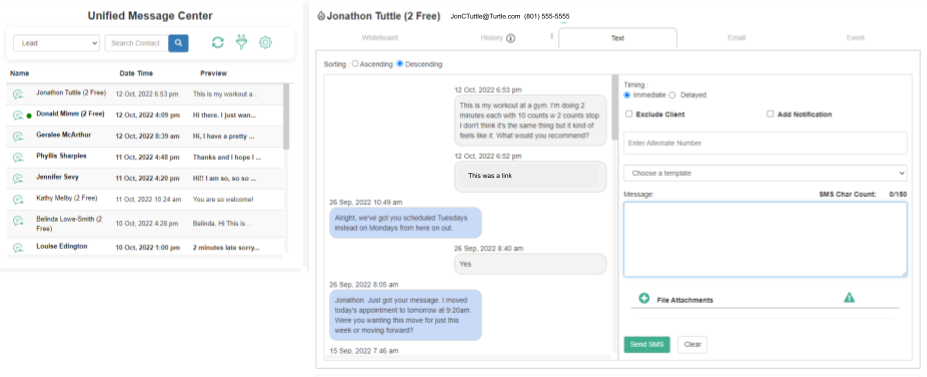 When the Message Center is opened it will show a list of messages on the left. If you click on one of the messages the details of that message will be shown on the right in its appropriate tab.

Messages in Bold have not been read.

The section on the right contains the same communication tabs as found in the full Contact Profile. You can read all messages to get caught up on any conversation with a Contact.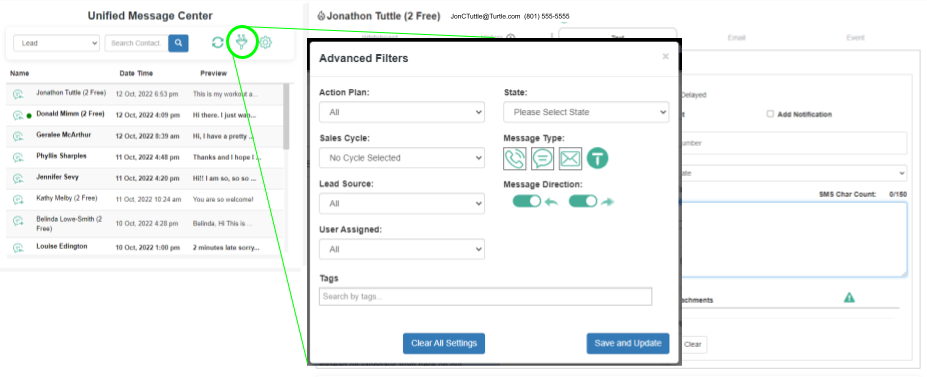 The Filter Icon lets the User control which messages they would like to focus on. If you have been using the software for a while now, you will already be familiar with most of the options. The new features in this filter are Message Type [Phone, Text, Email, Thumbtack] and Message Direction [Incoming, Outgoing]. In the image above, the User has selected to see Phone, Text and Email Messages in both incoming and outgoing directions.
The Page Settings Icon allows the User to control 3 things:
Sort order: The options are DESC and ASC meaning Descending or Ascending sort order by date and time.
Max History Days: The options are 1 – 7 and controls the number of days to look back for messages.
Contact Query Options: the options here are "Last Message Type" or "Each Message Type" meaning, the query will return only the "Last Message Type" for a Contact or it will return the last of "Each Message Type" for a Contact.