April 21, 2022
September 7, 2022
New Features/Settings:
Salesperson User Type
A new User Type has been added within all accounts: Salesperson
This new User type has settings and access limitations as follows:
User type "Salesperson" can view and access only Contacts as assigned to them within the Contacts List and Pipeline.
User type "Salesperson" cannot edit Action Plans.
User type "Salesperson" can view and change limited Settings items similar to Standard User type.
FYI, the next update phase of this new feature is scheduled to include limiting Dashboard report access to information pertaining only to their ("Salesperson" type user) assigned Contacts.
*Additional updates to the User Settings menu includes the option to select the preferred or default landing page within the account at log-in as well as setting the default primary tab that displays on the Contact Profiles within the account, for each user.
Updates to Existing Features/Settings:
Contact Profile Update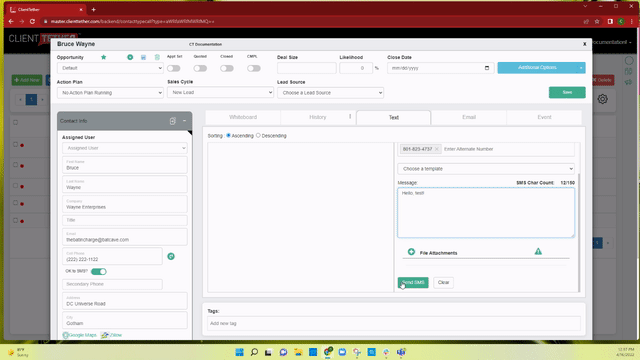 Exclude Client
The "Exclude Client" feature within Text and Email tabs of the Contact Profile has been updated. Moving forward, when the "Exclude Client" option is selected within the Text menu, the Text message panel and History Notes will now indicate that the message was sent excluding the client. This same indication applies to Emails when the "Exclude Client" option is selected.
Token Update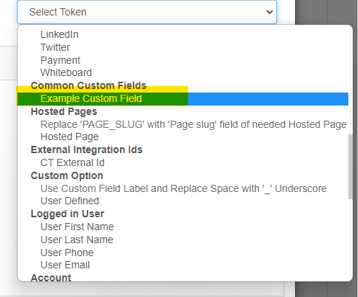 Custom Fields Token added to Tokens Menu
Common Custom Fields that have been added to the Contact Profile within the account will now show in Tokens List drop down menu and can be used throughout the account where Token options are provided.
Proposal System Updates:
Proposal Feature Update: We've added an Info Circle at "Proposal Notes" and "Work Notes" within the Proposal–viewable by White Label Account Users only.
Proposal Feature Update: Regarding Proposal Invoices, an Action Plan step to mark Invoice as Paid has been added. When this is applied, the Invoice will be watermarked as "Paid," and all standard features of Action Plan steps also apply to this new option.
Proposal Notification Update: We've updated Notifications for Contacts where a Proposal was deleted and a new Proposal was added. Moving forward, Proposal notifications will now generate for Contacts when a Proposal is opened, signed, etc. regardless if a previous Proposal was deleted for the same Contact/same Opportunity.
Proposal Settings Update: At Proposal Settings/PDF Details tab, a toggle switch has been added to indicate if Terms & Conditions (Ts & Cs) should show on Invoices and for User view within account. The default setting is false or set to off. When the toggle is switched on, or set to true, the Ts & Cs will show on Invoices at both User and Customer views.
Proposal Settings Update: Within the Proposal Settings/System, when Line Items are duplicated, the description will now also be duplicated as well as the flag for edit feature and any other features pertaining to that line item.
Proposal Settings Update: At the setting for Line Item Price ($) showing on the Quote or Invoice, if selected, both show. If not selected, neither the $ nor Line Item column will now show on the Quote or Invoice.
Proposal Setting Update: At the Proposal Settings/Tax Display tab, the option to show the Field Titles and Values on

either or both

the Quote and Work Order for Contact Views/Contractor Views has been added. The default setting for this is true or on for both.
Proposal Settings Update: Within the Proposal system, the Estimator name will now default to the User credentials for this Proposal. To change this from the default User, simply select the preferred User from the applicable drop-down menu.
End of Release Notes for 04.21.2022