Release Notes
June 24, 2021
Quick Links
May 5, 2022
April 21, 2022
April 7, 2022
Thursday, May 5, 2022
Proposal System Update: The Proposal System has been updated to include the auto-save feature throughout. This change is now in effect whenever changes are made on any screen within the Proposal System. Additionally, when changes are made to any screen within the Proposal System, calculations are also updated and auto-saved.
Proposal System Update: The Proposal System Line Item feature has been updated where a Line Item is selected to be deleted, a dialogue box will now appear and you must click "OK" to continue. Once deleted, you can view the Line Item in the Archives Tab in Proposal Settings. From that menu you can restore it for use if needed by clicking on the green arrow. Also note that when a Line Item is deleted and archived it will still show in Proposals where it was previously used.
Angi Ads Integration: As simple as it seems, Angi Ads is different from Angi Leads. The system not includes an Add-On process to accept leads with a custom integration for each.
Thursday, April 28, 2022
Updates to Existing Features/Settings:
Integrations Update: QBO Integration update brings the Product matching selection inside of the system instead of being in the Bridge. We also allow custom field mapping from inside our system as an option. This is more scalable and editable.

Tokens Feature Update: New Tokens have been added to assist in sending data out of the system by Webhooks. These new Tokens include, Account Web-Key, User ID, and External IDs

Integrations Update: The Webhook Monitor located at Hello–>Settings will now track attempts as sending data via webhooks.
Proposal System Update: Proposal Number Prefix is now allowed for branding and segmenting proposals in QBO from different accounts.
Thursday, April 21, 2022
---
New Features/Settings:
Salesperson User Type
A new User Type has been added within all accounts: Salesperson
This new User type has settings and access limitations as follows:
User type "Salesperson" can view and access only Contacts as assigned to them within the Contacts List and Pipeline.
User type "Salesperson" cannot edit Action Plans.
User type "Salesperson" can view and change limited Settings items similar to Standard User type.
FYI, the next update phase of this new feature is scheduled to include limiting Dashboard report access to information pertaining only to their ("Salesperson" type user) assigned Contacts.
*Additional updates to the User Settings menu includes the option to select the preferred or default landing page within the account at log-in as well as setting the default primary tab that displays on the Contact Profiles within the account, for each user.
Updates to Existing Features/Settings:
Contact Profile Update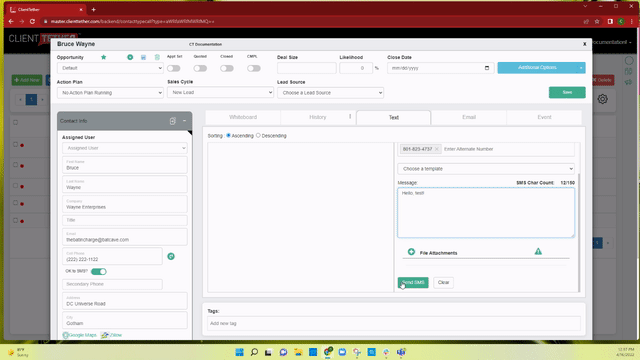 Exclude Client
The "Exclude Client" feature within Text and Email tabs of the Contact Profile has been updated. Moving forward, when the "Exclude Client" option is selected within the Text menu, the Text message panel and History Notes will now indicate that the message was sent excluding the client. This same indication applies to Emails when the "Exclude Client" option is selected.
Token Update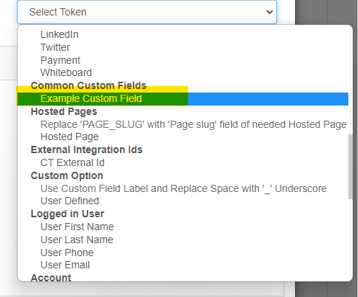 Custom Fields Token added to Tokens Menu
Common Custom Fields that have been added to the Contact Profile within the account will now show in Tokens List drop down menu and can be used throughout the account where Token options are provided.
Proposal System Updates:
Proposal Feature Update: We've added an Info Circle at "Proposal Notes" and "Work Notes" within the Proposal–viewable by White Label Account Users only.
Proposal Feature Update: Regarding Proposal Invoices, an Action Plan step to mark Invoice as Paid has been added. When this is applied, the Invoice will be watermarked as "Paid," and all standard features of Action Plan steps also apply to this new option.
Proposal Notification Update: We've updated Notifications for Contacts where a Proposal was deleted and a new Proposal was added. Moving forward, Proposal notifications will now generate for Contacts when a Proposal is opened, signed, etc. regardless if a previous Proposal was deleted for the same Contact/same Opportunity.
Proposal Settings Update: At Proposal Settings/PDF Details tab, a toggle switch has been added to indicate if Terms & Conditions (Ts & Cs) should show on Invoices and for User view within account. The default setting is false or set to off. When the toggle is switched on, or set to true, the Ts & Cs will show on Invoices at both User and Customer views.
Proposal Settings Update: Within the Proposal Settings/System, when Line Items are duplicated, the description will now also be duplicated as well as the flag for edit feature and any other features pertaining to that line item.
Proposal Settings Update: At the setting for Line Item Price ($) showing on the Quote or Invoice, if selected, both show. If not selected, neither the $ nor Line Item column will now show on the Quote or Invoice.
Proposal Setting Update: At the Proposal Settings/Tax Display tab, the option to show the Field Titles and Values on

either or both

the Quote and Work Order for Contact Views/Contractor Views has been added. The default setting for this is true or on for both.
Proposal Settings Update: Within the Proposal system, the Estimator name will now default to the User credentials for this Proposal. To change this from the default User, simply select the preferred User from the applicable drop-down menu.
End of Release Notes for 04.21.2022
Thursday, April 7, 2022
---
New Features/Settings:
Customize Contact Name

To customize the name of the Contact Types (Employee, Partner, Vendor and Other) within the account, visit the Contact Type tab in Settings.
From the Contact Type tab, click on the Contact Type name you wish to edit and update the name accordingly. Click enter and the update is autosaved. Refer to the video for a full tutorial of this process.
Updates to Existing Features/Settings: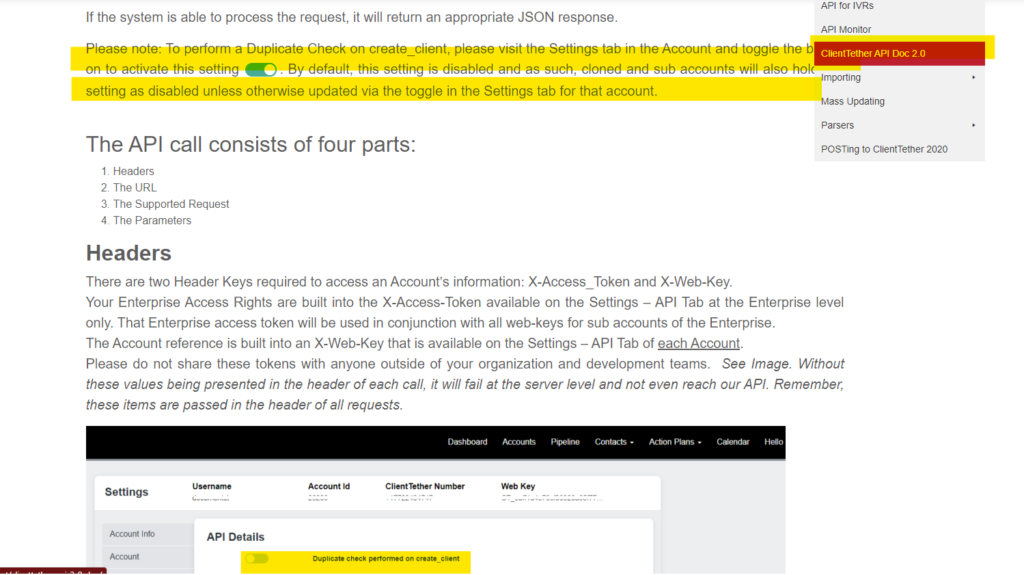 API Duplicate Check at create_client

To perform a Duplicate Check on create_client, visit Settings and toggle the button to on. Note that by default for existing accounts and new accounts this feature is set to false (off). Additionally, cloned or sub accounts created will also be set to false. To update, visit Settings and update toggle accordingly.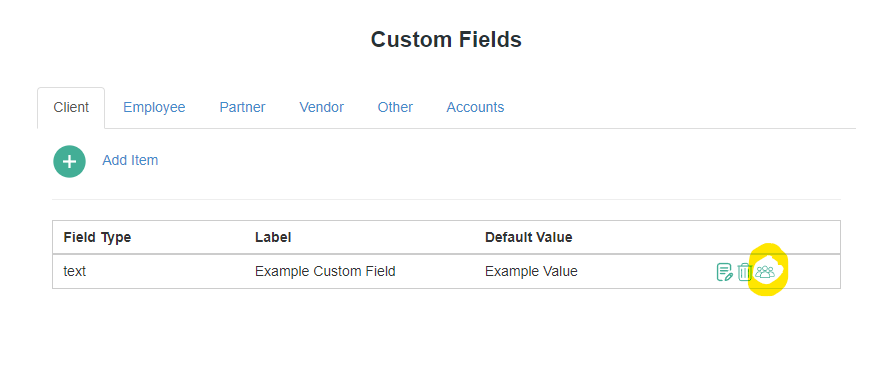 Custom Fields

When adding a Custom Field within a Contact Profile, the new field is currently also added to the Custom Fields list in the Settings menu. Now, from the Custom Fields tab in Settings you can elect to add this new Custom Field to all Contacts within your account by clicking the far right icon .
Please note that when updating all Contacts to include this newly added Custom Field, the update process timeline will be determined by both the volume of Contacts within the Account as well as ongoing system activity.
Editing Manual Appointments now includes the option to edit related Event Plan Action Plan steps.

If an existing Appointment is edited/changed there is now a pop-up menu feature that gives you options to continue, restart or remove existing Event Plan Action Plan steps that were tethered to this Appointment set within the Events tab in the Contact Profile.
End of Release Notes for April 7, 2022.
Thursday October 28, 2021
---
Settings->Tags

When viewing the Clients with Tag the clients names are now hyperlinked. If you click it will open their contact profile.

System users are now archived when they are deleted so that reporting remains accurate

Archived users cannot login to the system.
They also cannot be restored

Common Custom Fields

Can now be locked at the enterprise level
New account tab in Custom fields in Settings allows you to create custom fields for Just the local account.

Cannot be shared
Will have own token available under Accounts soon.

New data type options for custom fields

Text
Textarea
Phone
Date
Boolean
Checkboxes
Radio
URL
Number
Number with Range
Number with Decimal

Contact List

You can now add Common Custom Fields as column headers in the Contact list
Any field, other than a Common Custom field is now sortable

AnnAck

Now able to schedule when Announcements go live and are to be taken down.
Thursday October 7, 2021
---
Tags

If you release or reassign a contact to a different account they have a tag that does not exist in that account the tag will be outlined in red and you have the option of removing it from the contact or adding it to the account.

Home Advisor has been updated to Angi Leads throughout the system.

Addons
Settings Tab
Please note the unique endpoint URL that still says home-advisor is fine and does not need to be updated.
For clarification, as part of last week's ability to lock action plans for multilevel accounts.
If you are using that setting the multilevel account will have a new toggle for your action plans. It can be set to draft or ready.
Draft = not shared with your sub accounts.
Ready = shared with your sub accounts.
Thursday September 30, 2021
---
History Notes

Now have a history note that is created when changes are made to existing appointments.

SMS Okay Capability

If someone unsubscribes from your text messages you will not be allowed to turn sms okay back on until the contact texts "Start" into the system.

Enterprise settings

Can now lock Action plan

This will automatically push all action plans down to your sub accounts.
If you do not click "Subaccounts can create their own." Then the subaccounts will not have access to any action plans they have currently created and cannot create any new action plans.
If you do click "Subaccounts can create their own." Subaccount will keep current action plans in there account and will be able to create new ones.
We recommend that multilevel accounts convert to this new system, because a common Action Plan ID can be used for API calls. Before doing so though contact your CSM for more details.
Thursday September 23, 2021
---
Event Invite

Now shows account email for Account sending invite
Now pulls logo from Account sending the invite

If no logo then the logo space will be blank

Invited by now shows the Account name the invite is coming from

Proposal V2

Progress Payment % now is just calculated from the grand total of the work sheet.

Export

Created date is now showing in a Date format recognized in Excel.
Thursday September 16, 2021
---
Contact Page List

You can now use Account wide custom fields as column headers on the contact list page.

Proposal V2 updates

You can use a toggle in the Settings->Bid Types-> line Items above the description box to opt to allow the description to be editable in the actual proposal.
All fields, except summation types, for line items have a checkbox above them in the proposal. checking that box will allow that detail to be on the quote and work order.
There is now Icon to the right of the notes box in the proposal that will allow you to select which pre-notes you wish to include.
We now have a discount box that can be either a percentage or a dollar figure.
We now support HEIC image types in the proposal system.

Tokens

We now have a token type that incorporates any external IDs that are stored in our system via integrations.
Thursday September 2, 2021
---
Updates made to API calls to include contact's tags

read_client_list
read_client_by_id

New action type in Action Plans Remove Seasonal/Event Actions

This will clear out all actions that are tied to a seasonal or Event Action Plan for the contact.

Event Plans based on anniversary date now work with Month and Day so you do not have to update the year every year.
Thursday August 26 2021
---
Event invites not have account's logo and name displayed
Cloning process now clones Files in Settings
Cloning process now clones attachments in Templates
Group Email now requires validation for sending if the subject line is empty
Lead Routing

Notifications now created when contacts moved to different account because of Lead Routing
History note created to document lead route move of contact between accounts
Contacts moved to new accounts via lead routing are duplicate checked in the account they are moved to
Round Robin Option Update

IF To Who is set to User

Checklist created of all account users, including Account Owner, so you can select who is involved in Lead Routing Round Robin

IF To Who is set to Account

Checklist created of all accounts, including the parent account creating the lead routing, so you can select which accounts are included

Note toggle to include current account removed because that account is included in the checklist.

Hosted Page – Online Scheduler

The online scheduler now availability based on appointments set in ClientTether.
Thursday August 19 2021
---
V2 Proposal Invoice Updates

On the worksheet tab:

Two new fields
For Deposit

% – Tells System to calculate on Percentage of Grand total
$ – Hard Coded Number you provide

For Progress

% – Worksheet Total – calculated Deposit – payment(s) +/- Change Orders ) * % Progress field.
$ – Hard coded Number you provide

Invoice Tab

You can use the next to Invoice to open a drop menu with the following options

Invoice Type
Watermark Display

You can use these options to keep your invoice up to date and adjust the look of the invoice.
Please remember the link you send to clients links to a living document, meaning it will show whatever you have the current invoice tab set to.

Don't change the invoice type unless contact has seen and paid on the last invoice.
If you want a stagnant document you can open the link provided in your template email and create a pdf and send that instead.

Contact list display

This is now set to save the last setting used in the account (

not by user

) for the display of the contact list and use it next. The options are to the right of the search bar

Main Contacts
Active Opportunities
All Opportunities

Export now allows you to select exactly what fields you want to export

Allows you to select if you want to export history notes

Options none
Only Note Type
All Types

You can select custom fields

Will export ALL custom fields for contacts in their own separate columns

Export selection will be all contacts selected by your current search or filter, unless you use check marks. If you check mark the specific contacts those will be the only ones to export.
Export sheets can now be used for updates and imports

Expect to see documentation coming very soon going over which fields can be used to update and which field can be used in import.
Thursday August 5 2021
---
Opportunity Templates are now organized by contact type
Common Custom Fields can be created for specific contact types within an account
Lead Routing – Round Robin for accounts – now has option to include parent account
This video goes over how to print a pdf of items in V2 proposals using the browser features.
We have updated Proposal V2 that by using this browser feature it prints correctly and nicely onto standard 8.5in X 11in paper.
Thursday July 22 2021
---
Bug fix – Linked In field in contact profile now save value
Proposal-> Worksheets -> Room Measurements UI has updated so that it linear and easier to edit for each line item.
We have added verbiage to the Find Phone Number page for new account set up to clarify the number being picked is permanent
If an opportunity has an active V2. proposal attached to it then deal size field will not be able to be manually manipulated.
Thursday July 15 2021
---
New advanced filter option for the contact list

"No lead source selected"

Will show any contacts with lead sources unknown or blank in your list

A new contact/opportunity must be saved before a proposal can be created for it
We can now delete certain items from the proposal settings and they will be available in an archive tab – Archive Tab only shows up once something has been deleted

Bid Types

Can be archived but not permanently deleted
Can be restored

Categories

Can be archived but not permanently deleted
Can be restored

Line Items

Can be archived but not permanently deleted
Can be restored

Quote Type

Can be permanently deleted
Can be restored

Pre-Notes

Can be permanently deleted
Can be restored

Sub's

Can be permanently deleted
Can be restored

In Proposal Settings' Tax/Display tab We now have options to

Show line items on Invoice

Default setting is unchecked

Show Line Item $ on Quote

Default setting is unchecked

In a proposal if you update the room calculations they now auto update on the worksheet.
Proposal Constants

List now displays in alphabetical order
Be used as valued in default value fields for line items (Proposal Settings)
Can be edited in a proposal and only affect that proposal
Can be edited in settings and it will not affect existing proposals
Thursday July 8 2021
---
Daily Emails Should deliver at 5 am for the time zone which is selected in the accounts operation settings.
Contact Reminders will update at 5 am each day in the account

Green dots appear
Green dots turn to yellow dots

If your SMTP setting is for a Google account and your password was updated, but you have not updated your SMTP settings within ClientTether the following will occur:

SMTP will be turned off
Error message will display
Error notification will display asking you to reconnect your SMTP.
Thursday July 1 2021
---
Updates to Settings->User ->user edit capabilities
update username
select if user is to receive daily emails
Changes to Settings-> Proposal
New layout in tabbed format to make navigation easier
Template tab

Duplicate
Share templates with other accounts in your organization
Delete templates

Proposal Default Tab

IF version 1 of proposal system is active in your account this will show

Allows you to edit default values

If this is showing and it is blank or you no longer use V1 please reach out to your CSM and they will coordinate having it removed for you.
Changes to Settings->Account
Any selection to the Accounts Display setting is global for that individual account. Meaning it will be the same for all users
The selection of Account Admin will switch the two columns on the Account Page of Account Admin and Company Name
Selection of the Notifications option will make it so users will only see the accounts they have set to see roll up notifications for.
Thursday June 24 2021
---
Change User Levels from Admin to Standard and vise versa
User setting for daily email is now controlled in the user tab in settings.

Account Owner still controlled in Action Plans

Now able to save Contact list filters
Can choose how to order accounts

Account Name
Admin User
Notification roll up selections
Account Deactivate puts count in 10 day waiting period and then it is deleted. You cannot access the account while it is deactivated.

You can reactivate the account anytime in this 10 day window and have all of the settings and contacts restored
Once the 10 day count down is finished the account is permanently deleted from the system.
Default Date range selection for dashboard has been changed from the last year to the last month.

New tab in settings called "Charts" allows you to edit that for your specific account

Proposal Line items drop-down type

can pick display and value by typing display|Value
can now have designated default by adding * to item you wish to be default.

Reset Password from login page has been fixed.